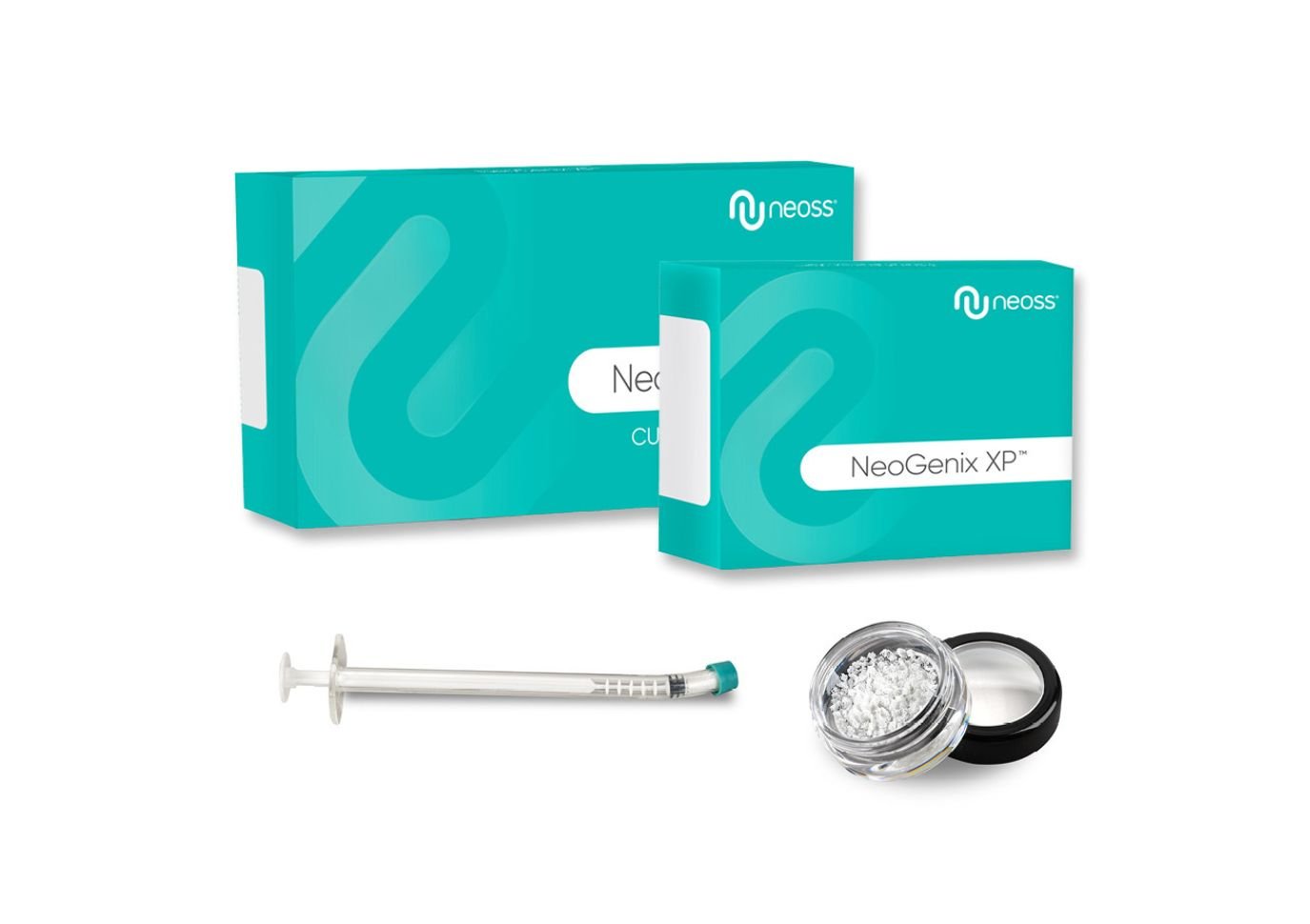 NeoGenix XP
Safe and clinically proven natural bone substitute
NeoGenix XP is an osteoconductive, porous, anorganic bone mineral with a carbonate apatite structure derived from porcine cancellous bone.
Safe
Porcine animals are considered a non-TSE relevant species

The bone tissue undergoes several stages of processing in order to eliminate or inactivate viruses

A rigorous process designed to effectively reduce any risk of disease transmission and ensure safety for human implantation

The bone graft is provided sterile and is intended for single use only
Carbonate apatite anorganic bone mineral
Carbonate apatite structures are better osteoconductive materials than hydroxyapatite

1,2,3

Resorption and remodeling profiles are more similar to natural bone than those of synthetic materials, such as hydroxyapatite or tricalcium phosphate

2
Porous
Porosity allows vascularization of the defect site and enhances osteogenesis 4,5
High porosity and large pores enhance bone ingrowth and the osseointegration of the implant after surgery
NeoGenix XP macropores are between 0.1 mm and 1.0 mm
Surface Roughness
Surface roughness affects cellular response by enhancing cell adhesion and proliferation. Additionally, other markers of cell phenotype expression such as the production of collagen type I, osteocalcin, extracellular matrix, and mineralized material may also be affected.
NeoGenix XP

can be used in the following types of dental procedures:
Ridge augmentation and maxillary sinus lift
Extraction socket graft
Infrabony periodontal defects
Periodontal defects
Peri-implant defects
Dehiscence defects
Stay updated on all things Neoss including live webinars, new products, clinical research, and much more!
"The biomaterial appears "light" at the first visual observation and at the first manual use. The term "lightness" compared to other heterologous bone substitutes refers to the lower compactness due to its

porosity characteristics

. It is precisely this porosity which makes it

very homogeneous and easy to handle

when it is hydrated for the first time with saline solution and after a few minutes with a few drops of the patient's blood.Insertion in cavities undergoing bone regeneration is facilitated from the consistency of the biomaterial".
NeoGenix XP™ Product Catalogue
Gottlow J & Sennerby L, 2010. 'Influence of surface and implant design on stability of five commercial titanium implants. A Biomedical study in the rabbit', AO Meeting, Post 83
Renouard F, Nisand D. Short implants in the severely resorbed maxilla: a 2-year retrospective clinical study. Clin Implant Dent Relat Res. 2005;7 Suppl 1:S104–10.
Meredith N; A review of implant design, geometry and placement. Appl Osseointgrated Res 2008 6 pp 6–12.