Neoss® Biomaterials
Elevate

your bone regeneration game
Our comprehensive range of biomaterials offers solutions for a wide range of indications, from simple extraction sockets to more challenging procedures like sinus lifts and ridge augmentations.
Clinically proven solutions with predictable and consistent results
A wide range of options to cover all your GBR needs
One-stop shop for solutions carefully selected for you
Neogen Cape membrane—introducing a breakthrough fixation method for PTFE membranes

Dr. Christian Schober

Guided bone regeneration using PTFE barrier around dental implants

Dr. Mohamad Koleilat

New concept for buccal bone regeneration – implant-supported PTFE membrane

Dr Christian Schober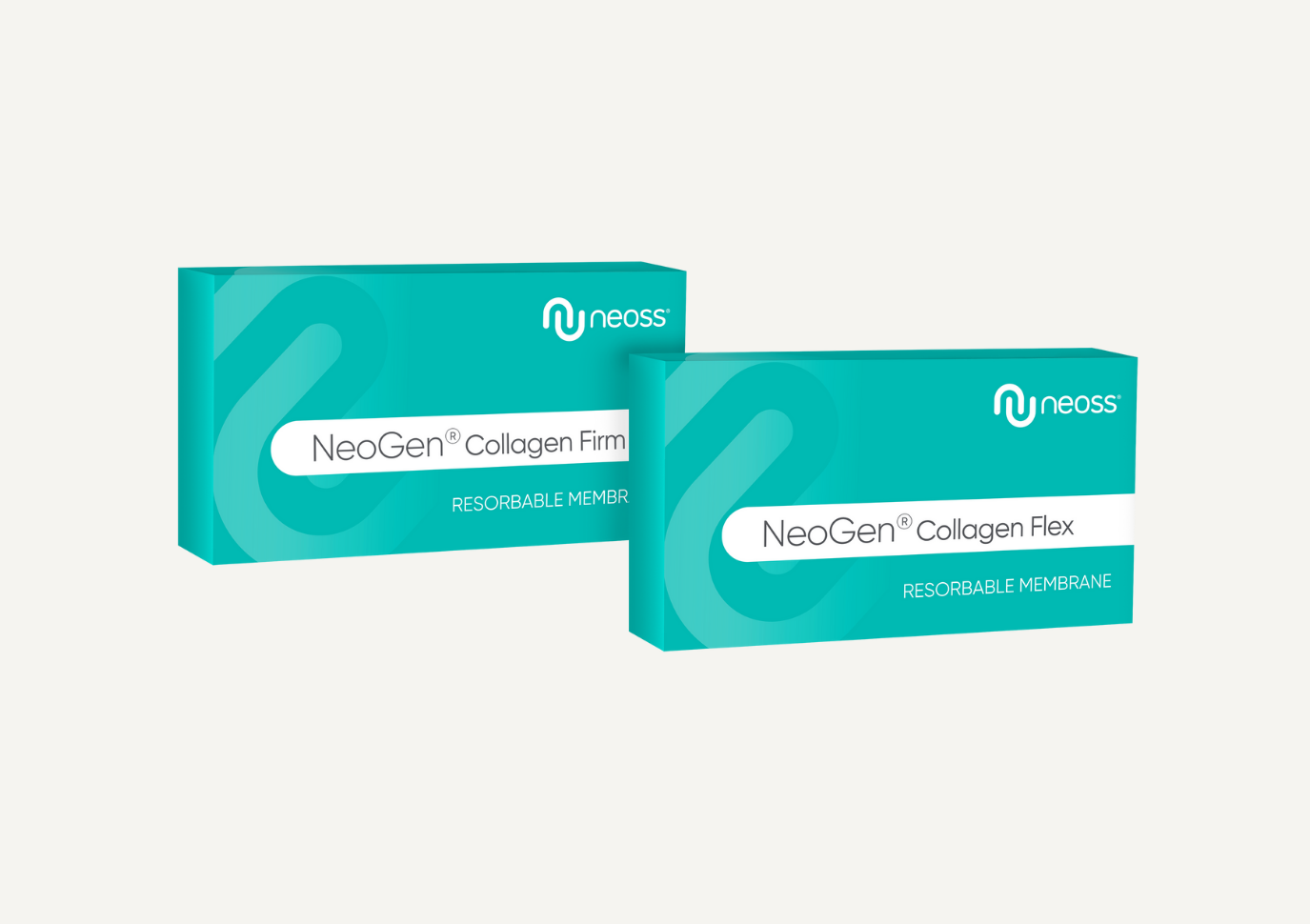 EASY TO USE, CLINICALLY PROVEN
NeoGen® Resorbable Collagen Membranes
The NeoGen Resorbable Collagen Dental Membranes are advanced resorbable membranes for bone defects, localized ridge augmentations, and guided bone regeneration in dehiscence defects.
Easy to handle
High mechanical strength
Two degradation times for adequate site protection


Vertical bone growth where you need it
NeoGen® PTFE Membranes
NeoGen PTFE Membranes are soft, flexible and easy to trim and shape. The combination of easy handling and tissue interactions with an enhanced barrier function results in a membrane that is easy to handle and protects the augmentation site in a predictable manner.
Soft tissue friendly and resistant to bacteria
Strong and shapeable mesh creates stability and flexibility
Supports the regrowth of lost bone, about 1 mm per month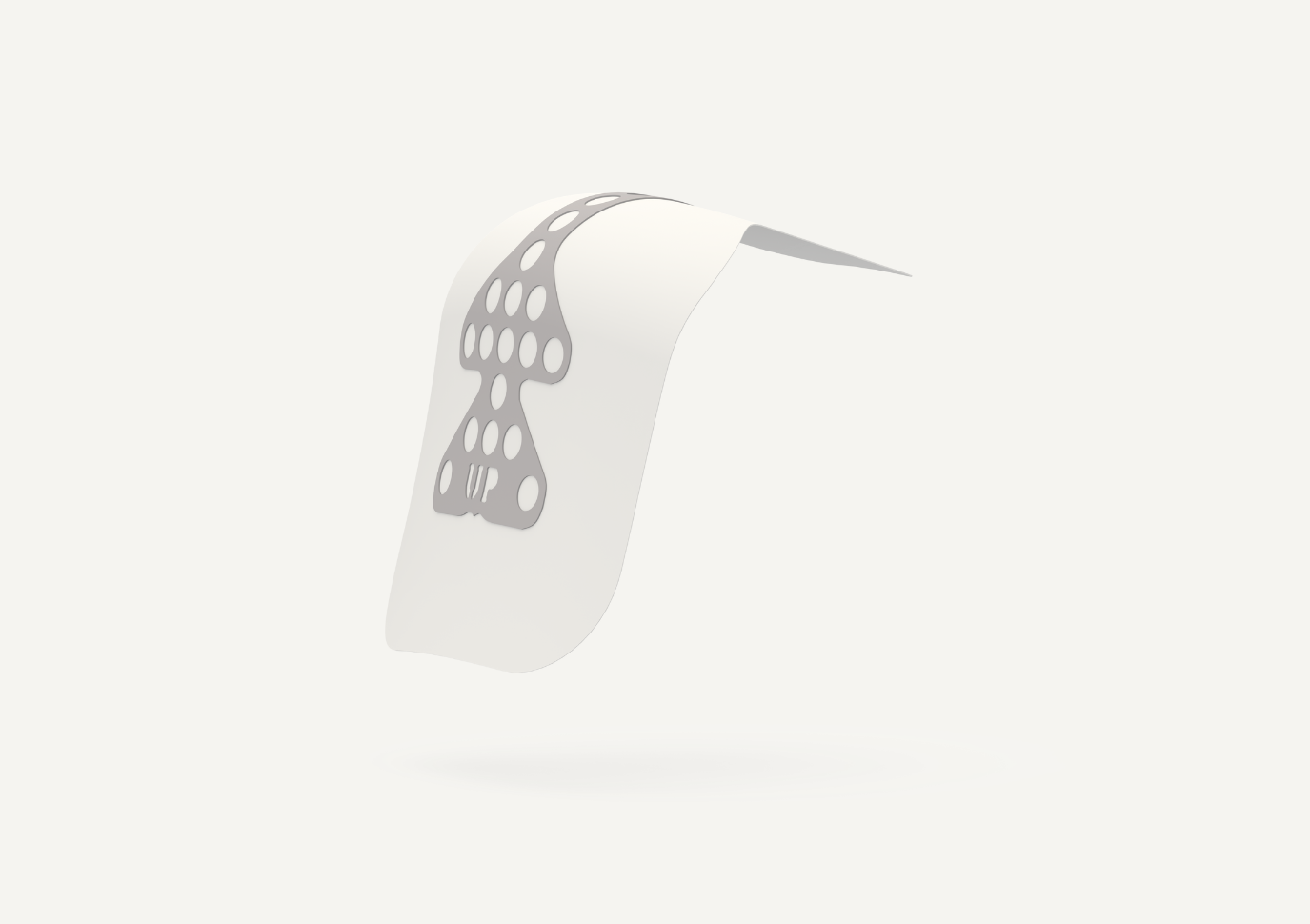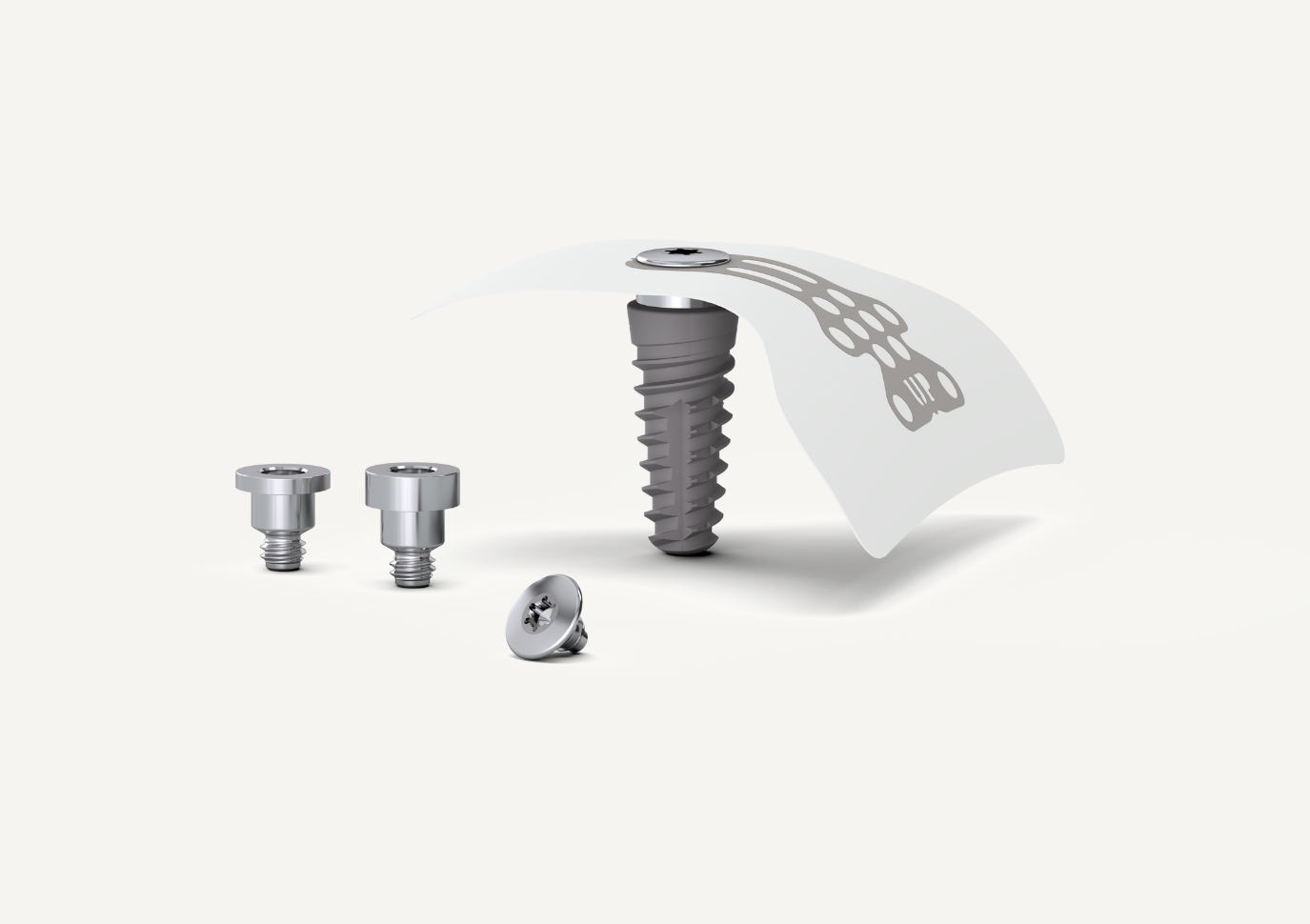 Secure your vertical bone growth
NeoGen® Cape PTFE Membranes
Introducing NeoGen Cape, a new single tooth PTFE implant-secured membrane that has its uniqueness in the main anatomical geometry as well as in the way of securing it on to the Neoss implants.
Higher membrane stability thanks to implant fixation
Easier fixation & fewer steps
Predictable bone gain
Natural bone substitutes
Neoss® bone graft materials
Bone graft materials are used in dental procedures to promote bone growth and regeneration. Neoss has an exciting range of bone graft materials; THE Graft™, NeoGenix XP™, and NeoGenix Allograft™ for all bone augmentation procedures:
Clinically proven
Predictable and consistent results
Wide range of options for all your needs, including ready-to-use vials, curved syringes and collagen blocks.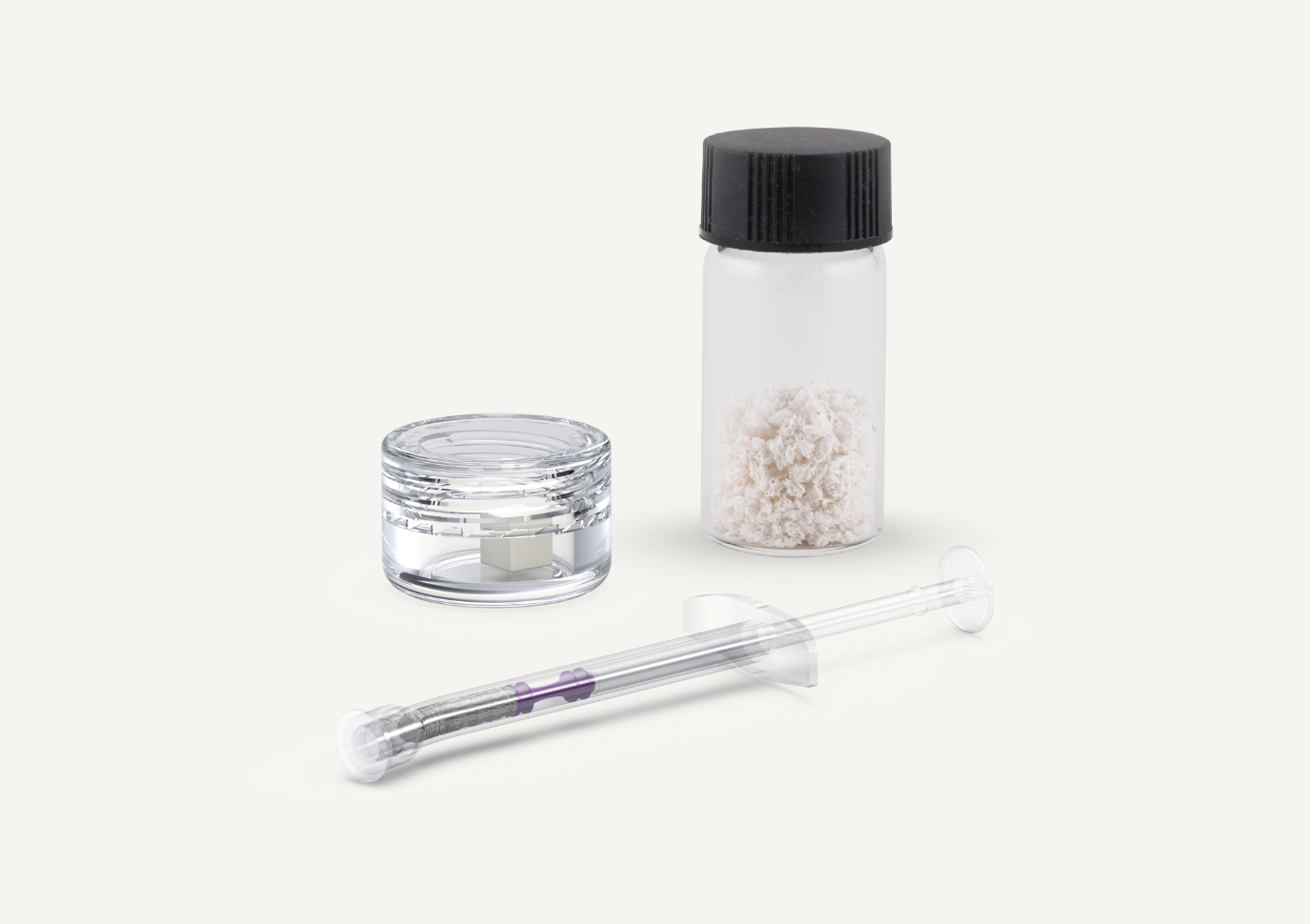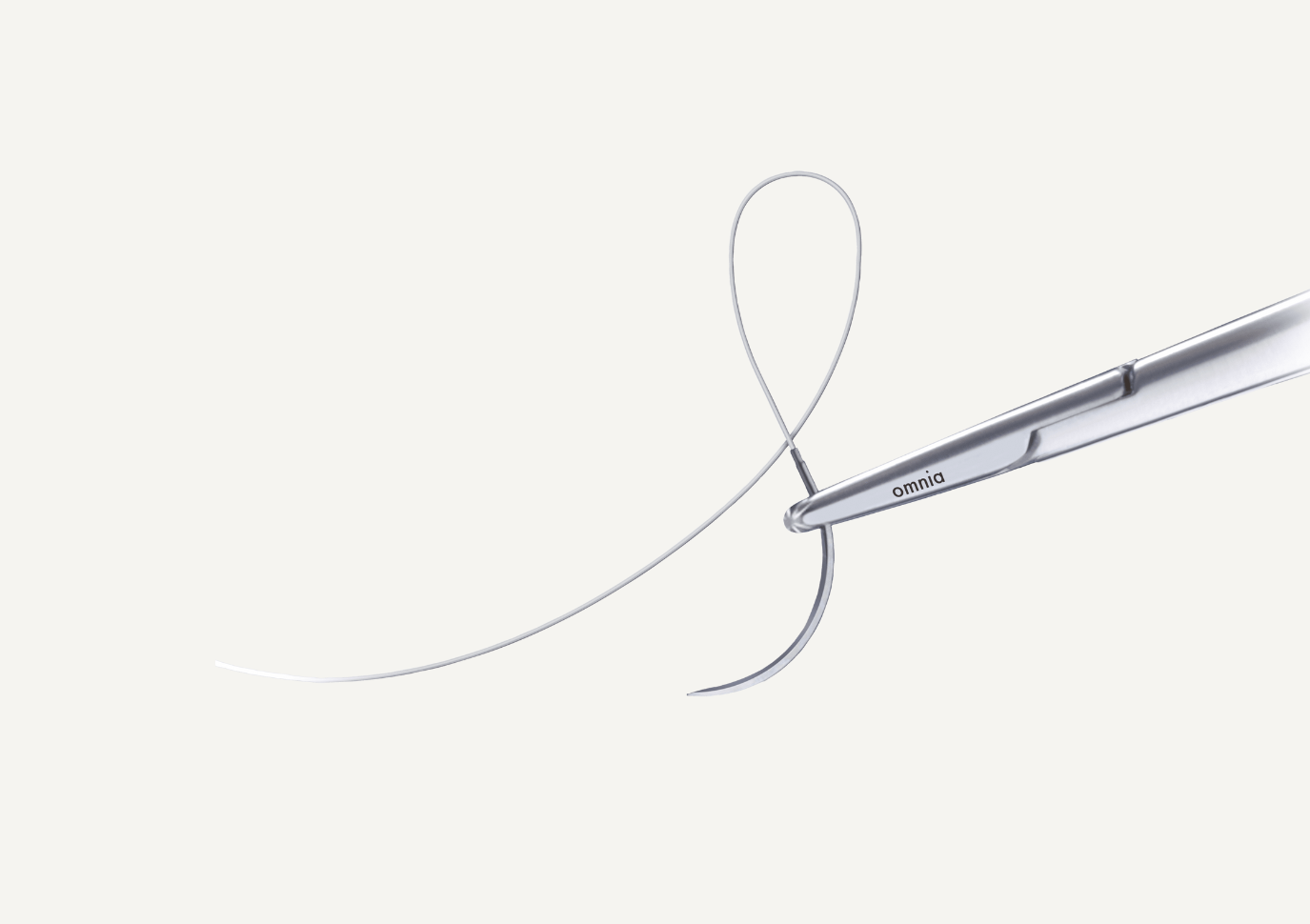 Non-Resorbable PTFE Sutures
Neoss® & Biotex non-Resorbable PTFE Sutures
Non-Resorbable PTFE Sutures are comprised of a single-arm, non-resorbable monofilament suture with a stainless-steel surgical needle connected to the suture. The suture is uncoated, undyed and sterile for single use only, composed of 100% PTFE.
Keeps the surgical site reliably closed

Promotes wound healing

Exceptional handling that is both supple and easy to knot
Neoss® Tacks & screws
Membrane Tacks and Membrane Screws are used for easy and secure attachment of regenerative membranes to the bone during guided bone regeneration procedures
Fast and easy membrane fastening and removal
Pick-up function for safe handling
Screws with self-tapping properties (no pre-drilling)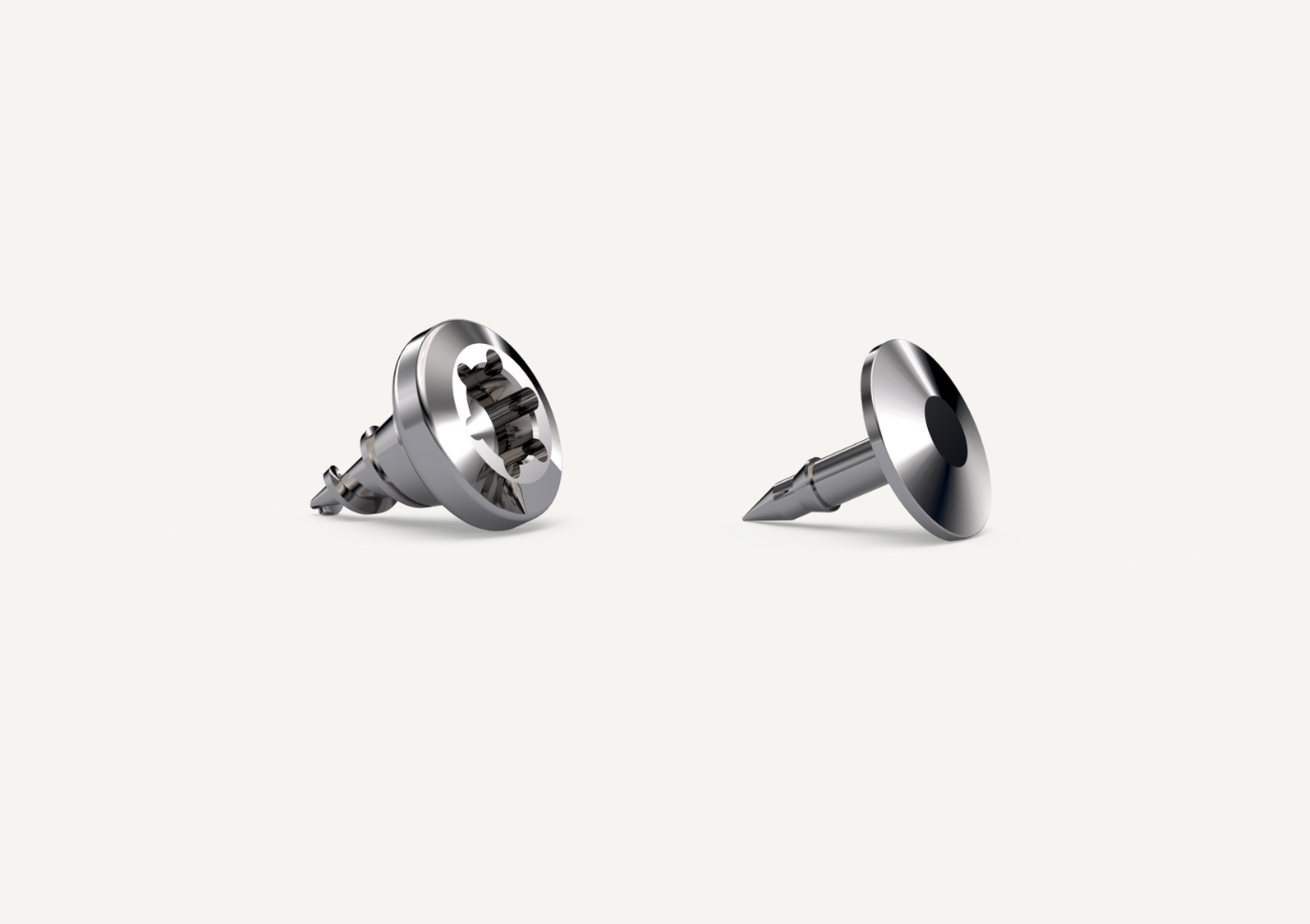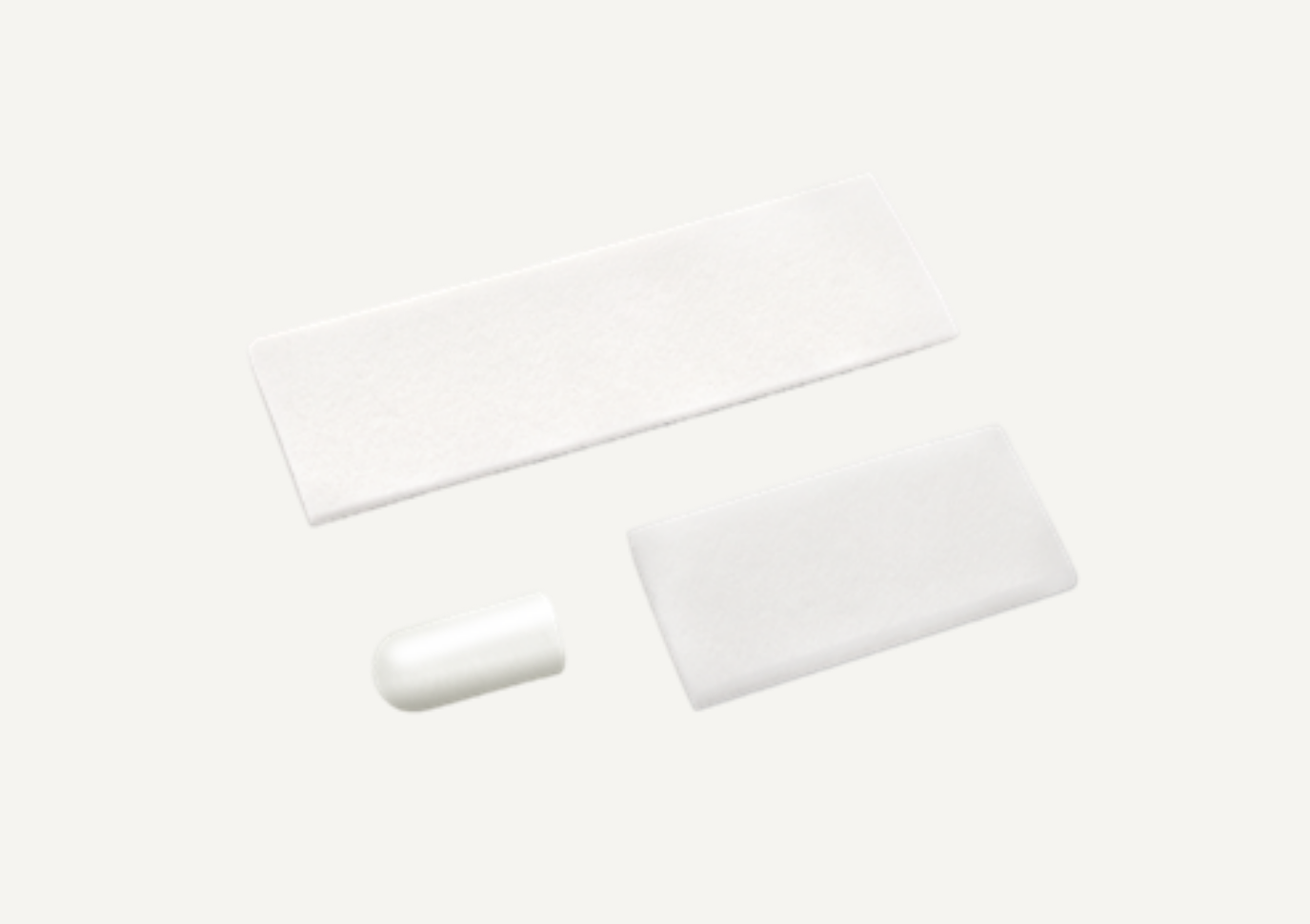 Collagen from bovine dermis
NeoGen® Wound Dressing
Designed to stabilize and protect wounds and delicate new tissue, while also aiding wound healing. NeoGen Wound Dressings are ideal for everyday use and come in three convenient shapes.
Require no preparation and are easy to cut to size
Can be left in situ
Available in packs of 10
Shop online and take advantage of our free shipping offer on all orders.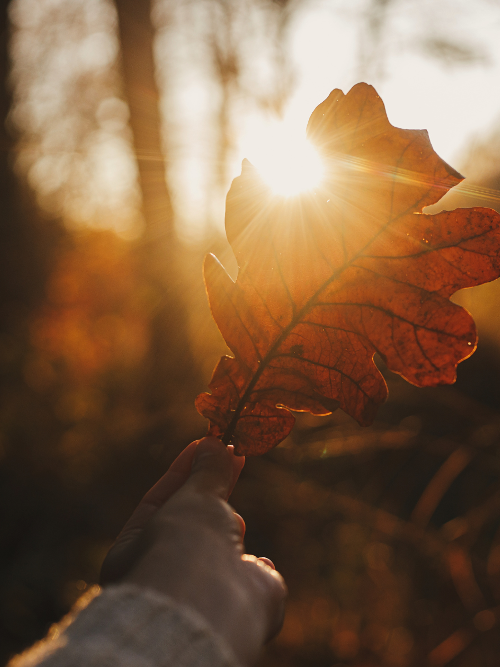 Contact us about
Biomaterials
A review of the published clinical and pre-clinical evidence. Sahlin H, Dahlin C, NeoGen PTFE membranes. Letters on Implant Dentistry 2022; 2: 57–61
In vitro evaluation of barrier function against oral bacteria of dense and expanded polytetrafluoroethylene (PTFE) membranes for guided bone regeneration. Clinical implant dentistry and related research. Trobos M, Juhlin A, Shah FA, Hoffman M, Sahlin H, Dahlin C. 2018;20(5):738-748.
Vertical ridge augmentation with PTFE membranes and simultaneous implantation. A comparative study. Hassfurther N, Scheibelhut C, Hassfurther N, Pons-Kühnemann J, Howaldt H, Schaaf H. Clinical oral implants research. 2021;32(S22):160
Vertical and horizontal guided bone regeneration (GBR) using a Ti-reinforced non-resorbable e-PTFE membrane and simultaneous implant placement. A retrospective study. Hassfurther N, Hassfurther N,. Letters on Implant Dentistry 2022; 2: 62–66
Managing membrane complications. A technique description. Hassfurther N. Letters on Implant Dentistry 2017
A Comparative Study of a New Porcine Collagen Membrane to Bio-Gide®. Li et al, Science, Technology, Innovation 2015
Effectiveness of Xenograft and Porcine-Derived Resorbable Membrane in Augmentation of Posterior Extraction Sockets with a Severe Wall Defect. A Radiographic/Tomographic Evaluation. Guarnieri 2019
Comparing two ridge preservation techniques: with and without soft tissue primary closure. Pham et al. 2018
Extraction Socket Preservation using Porcine-derived Collagen Membrane Alone or Associated with Porcine-derived Bone Graft. Clinical results of Randomized Controlled Study. Guarnieri. 2017
Tissue Dimensional Changes Following Alveolar Ridge Preservation with Different Xenografts Associated with a Collagen Membrane. Results at the 4-Month Re-Entry Surgery. Guarnieri. 2017
Process development of a virally-safe dental xenograft material from porcine bones." 2016
Effect of the calcination temperature on the composition and microstructure of hydroxyapatite derived from human and animal bone, M. Figueiredo, et al. 2010.
Osteogenic effect of low-temperature-heated porcine bone particles in a rat calvarial defect model., Go A, Kim SE, Shim KM, Lee SM, Choi SH, Son JS, Kang SS. Kim et al. 2014
Physicochemical characterization of porcine bone-derived grafting material and comparison with bovine xenografts for dental applications. J Periodontal Implant Sci. 2017 Dec;47(6):388-401
Alveolar ridge regeneration of damaged extraction sockets using deproteinized porcine versus bovine bone minerals: A randomized clinical trial. 100 patients. 2018
Randomized Clinical Trial of Maxillary Sinus Grafting using Deproteinized Porcine and Bovine Bone Mineral. 16 Patients. 2017
Isolation and Characterization of a Porous Carbonate Apatite From Porcine Cancellous Bone. Li et al. 2014
Porcine anorganic bone mineral for GBR in dental surgeries. Part II In vivo animal study and human case study. Chen. 2016.
Comparison of Clinical Parameters in Dental Implant Therapy between Implant Site Development Using Porcine- and Bovine-Derived Xenografts. Li-Ching Chang. 2021
Effectiveness of Xenograft and Porcine-Derived Resorbable Membrane in Augmentation of Posterior Extraction Sockets with a Severe Wall Defect. A Radiographic/Tomographic Evaluation. Guarnieri 2019
Maxillary sinus floor augmentation comparing bovine versus porcine bone xenografts mixed with autogenous bone graft. A split-mouth randomized controlled trial. Moreno et al. 2021
Product availability may vary depending on the market or region. For more information, please contact your nearest Neoss office.
Receive the latest news from Neoss, live webinars, new products, and much more!